VICI Valco Instruments
Needle valves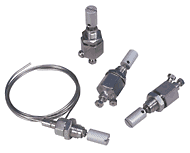 Micrometering (needle) valves combine the ease of connection associated with Valco zero dead volume fittings with convenient bulkhead mounting. The very low internal volume and precision design make this valve ideal for use as a gas control valve in chromatographic systems.
Read more about VICI Valco's needle valves.
Flow controllers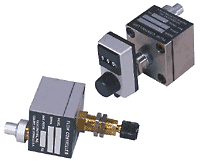 Gas flow controllers provide a stable flow rate under varying pressure. VICI flow controllers are precision machined from aluminum or stainless bar stock to eliminate the contamination often found in die-cast parts. Positive flow shut-off is provided by an integral Viton®-sealed adjustment valve.
Read more about flow controllers from VICI Valco Instruments.
For 40 years, VICI Valco Instruments Co. Inc. has been the leading designer and manufacturer of standard and custom valves and fittings for precision analytical, biomedical, and biocompatible instrumentation. Our product line also includes a wide range of related products such as pneumatic and electric actuators, tubing and sampling loops, heated enclosures, valve sequence and temperature controllers, gas purifiers, GC detectors, and digital interfaces.