Cylinders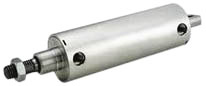 We typically stock a wide range of ARO and Humphrey pneumatic cylinders.
ARO offers air cylinders for every application need. Small bore non-repairable interchangable cylinders, round and square compact, interchangeable cylinders perfect for OEM and MRO applications, and medium-heavy duty round line repairable cylinders.
Humphrey air cylinders have a unique internal design that provides better performance, smooth no-drag movement, fast response and clean breakaway.